Semiconductors Group
---
Current Research
Organic, inorganic and hybrid semiconductors are a crucial ingredients to an increasing number of applications, such as solar cells, light-emitting devices, energy storage in batteries or fuel cells, and for chemical or biological sensing. In addition, the emergence of nanostructured systems has allowed the exploration of new fundamental science, as for example artificial light harvesting and photocurrent generation at interfaces, supramolecular self-assembly and an understanding of electron dynamics. Our group is particularly interested in increasing our fundamental understanding of electronic, lattice and nano-scale properties that govern these systems. Our experiments are largely based on a range of femtosecond spectroscopic methods to follow the dynamics of photoexcitations in a material. These techniques provide non-contact analytical tools to examine how molecular or hybrid materials may be optimized for implementation in applications.
A brief description of some of our recent work is given below; more details may be obtained from our publications. A listing of current research support may be found at the end of this page.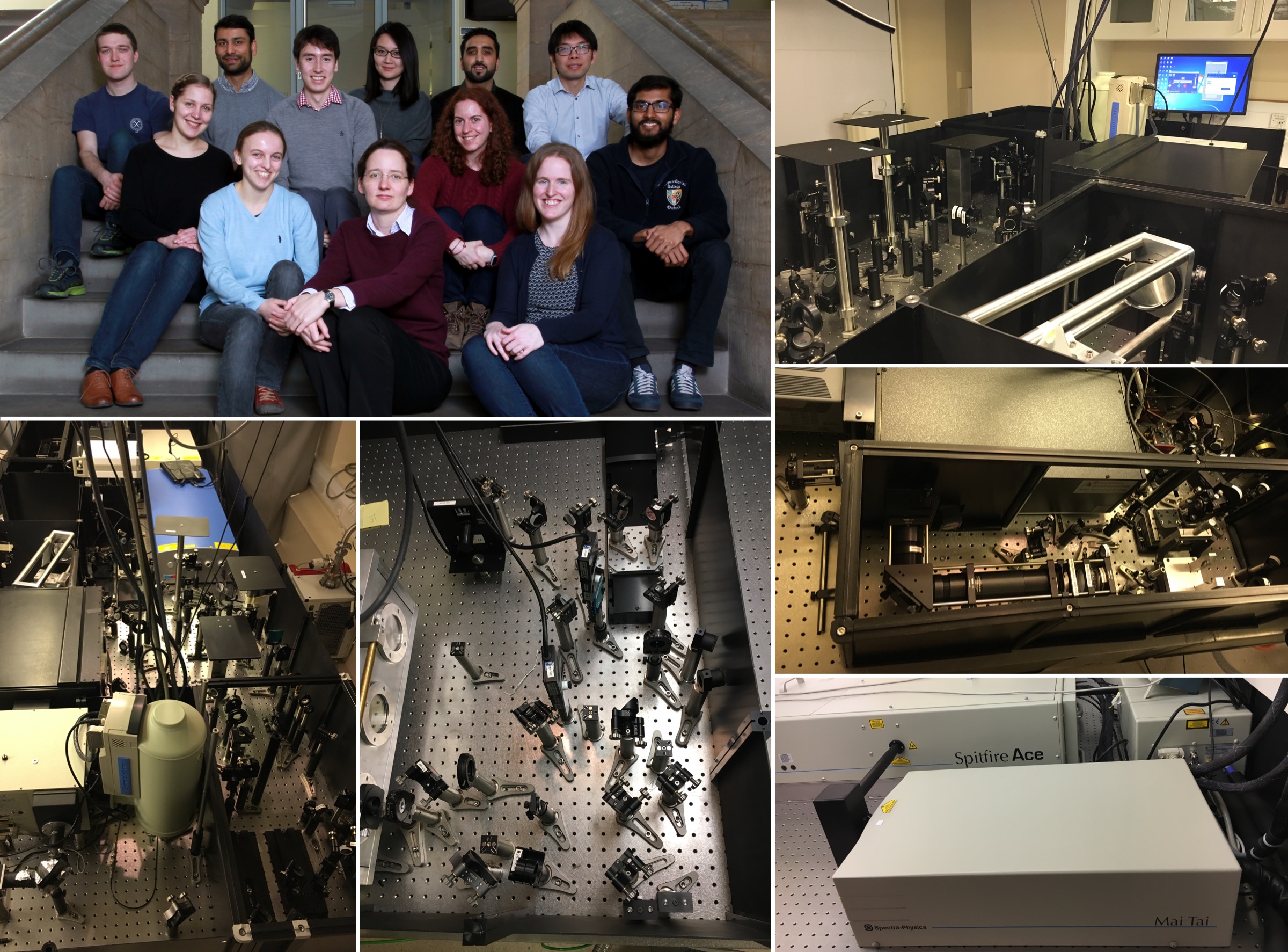 Figure: Clockwise from top left corner: Group photograph 2017; PL upconversion experiment; iCCD/TCSPC spectroscopy system; laser amplifier; optical-pump THz-probe photoconductivity experiment; time-resolved PL system.
Examples of recent research
Hybrid metal halide perovskite solar cells

See e.g.:
Energy Environ. Sci. 10 (2017), p. 361.
Nano Lett. 17 (2017), p. 5782.
Nature Energy 2 (2017), p. 17135.
Science 351 (2016), p. 151.
Science 354 (2016), p. 861
Nature Communications 7 (2016), p. 11755
Adv. Func. Mater. 25 (2015), p. 6218.
Adv. Mater. 27 (2015), p. 7938.
Energy Environ. Sci. 7 (2014), p. 2269.
Adv. Mater. 26 (2014), p. 1584.
Science 342 (2013), p. 341.




New organic-inorganic metal halide perovskite materials emerged recently as active materials in photovoltaic cells exceeding power conversion efficiencies of 22%. Our group has unravelled the ultrafast dynamics governing the charge carrier motion and recombination in these materials high-lighting, for example, the role of non-Langevin radiative charge-carrier recombination underpinning the exceptional photovoltaic performance of these materials. We are currently investigating a wide range of topics in this area, including the fundamentals of electron-phonon coupling, charge-carrier mobility and recombination, light emission and ion migration. These studies feed directly into collaborative efforts aimed at addressing remaining challenges in the creation of commercially available perovskite solar cells, e.g. stability, band-gap tunability, lead-free perovskites, trap-free materials, material morphology control and alternative device structures.

For recent reviews on this subject by our group, see:
ACS Energy Letters 2 (2017), p.1539.
Annu. Rev. Phys. Chem. 67 (2016), p.65.
Acc. Chem. Res. 49 (2016), p. 146.

Collaborators:
Prof Henry Snaith and Prof Michael Johnston (Oxford Physics)
Bio-mimetic porphyrin nanorings

Natural evolution very early on solved the problem of how to capture light efficiently and use it to initiate the primary electron transfer reactions of photosynthesis in a surprisingly efficient manner. Synthetic molecules that mimic such biological light-harvesting complexes should allow high-efficiency conversion of solar light into energy in the form of electrical current, rather than biological mass. We have recently shown that energy delocalisation is extremely rapid (300fs – similar to natural systems) in alkyne-linked Zn-porphyrin octamers that were curved into a rigid ring by use of an octadentate template co-ordinating with Zn. Our current work explores fully cyclic alkyne-linked porphyrin chromophores that directly mimic natural light harvesting systems. We are particularly interested in factors controlling electronic delocalization in these systems and in the ultrafast transfer of energy in nanostructured complexes comprising multiple chromophores.

Collaborators:
Prof Harry Anderson (Oxford Chemistry).